ACHIEVEMENTS of young people supported by MCR Pathways have contributed to an "exceptional" year for the school mentoring charity, bosses claim.
Its newly published annual report shows during 2017/18, MCR Pathways has doubled the number of young people it supports each week to more than 1300 across all 30 secondary schools in the Glasgow City Council area.
It is also working on a national plan, having launched in Aberdeen City and Aberdeenshire, which aims to reach 2500 of the country's most disadvantaged young people.
The report shows 79 per cent of mentored, care-experienced young people are now returning to school after S4, a huge increase on the national baseline for care-experienced young people, which was 22 per cent in the three years prior.
The charity has also made an impact on bridging the attainment gap between care-experienced young people and the average for all young people in Scotland.
Over three years, this includes a 40 per cent increase in care-experienced, mentored young people attaining literacy and numeracy at level 4 or above.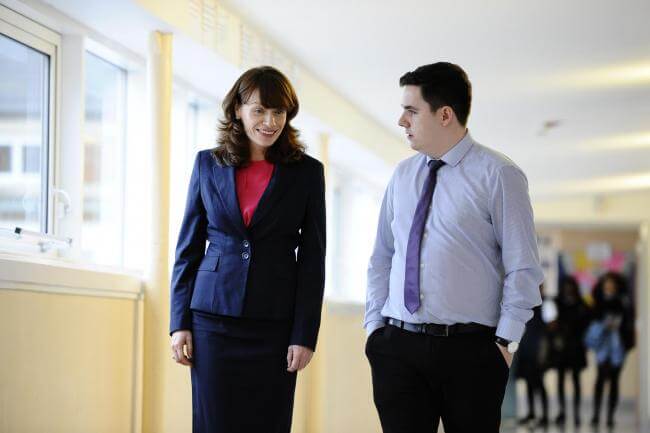 MCR Pathways founder Iain MacRitchie said: "I am completely blown away by the results of our latest impact report and the astonishing progress that our young people have made over the last year.
"None of this would be possible without our fantastic schools, supportive partners, our dedicated volunteers, our own MCR staff and, most importantly, the brilliant young people we are lucky enough to be able to give that helping hand, which makes all the difference.
"Reaching and helping more young people can only be achieved with the support of our volunteers – but, as always, we promise that the experience will be every bit as transformational for them."
There is now no attainment gap in care-experienced young people achieving five or more subjects at level 4 or above, or one or more subjects at Level 5 and above.
The improvement has been dramatic from 59 per cent to 92 per cent and from 52 per cent to 92 per cent, respectively, over the three years.
Crucially, the report reveals that 86 per cent of mentored care-experienced young people are leaving school and progressing to college, university or employment.
This increase has been achieved against a national average baseline of 54 per cent for care-experienced young people and is again closing the gap on the national average baseline for all young people of 90 per cent.
Maureen McKenna, Executive Director of Education, Glasgow City Council, said: "The results and outcomes in last year's impact report were so impressive, but the bar has been raised again with more and more of our young people achieving better results and positive destinations – employment, training, further and higher education.
"Every young person in Glasgow has talent.
"This programme is identifying, nurturing and encouraging that talent in the young people whom might need an extra bit of support or nudge to believe in themselves – for a variety of different reasons.
"Our schools do an amazing job and the MCR mentors and talent taster sessions complement this work beautifully.
"Now that we have Pathway Coordinators and mentors in every secondary school in Glasgow I can only predict that next years' report will raise the bar once again and be the best ever."
#GiveAnHour
Just one hour a week can make a life-changing difference. Our mentors come from all walks of life, but what they share is their commitment to Glasgow's young people. Can you join them and become a mentor? We have an especially strong need for mentors in our South Side, can you join our #SouthSideSignup?